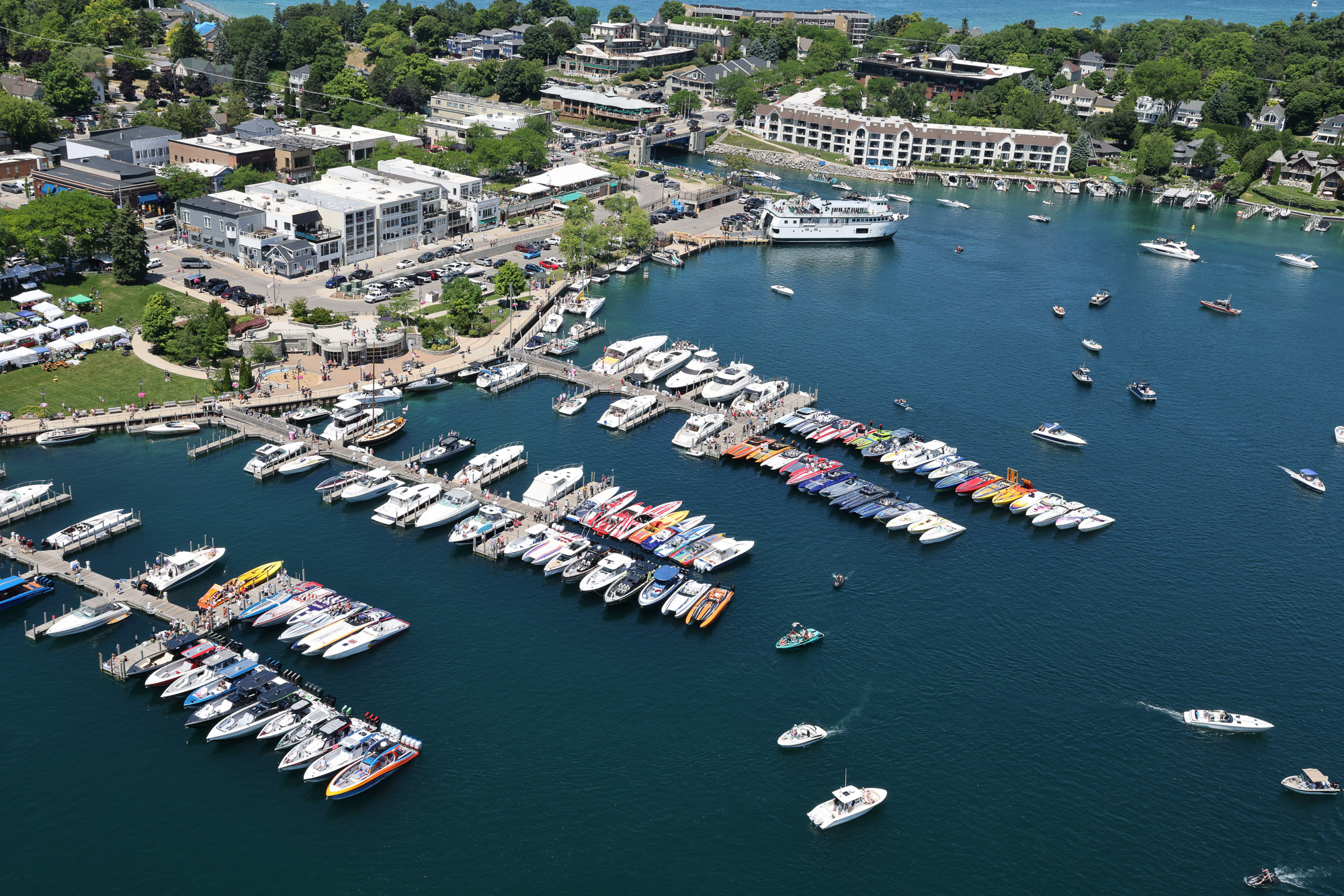 Become a Sponsor
2024 Sponsorships open December 4, 2023 at 9 a.m. EST and close at the end of business on February 16, 2024.
General Boat Registration
General Registration begins March 1st, 2024 at 9 a.m. EST
General Registration is $800 and includes:
The entry fee for one boat (captain and one rider) for the poker run.
Gift for the captain and two event t-shirts.
Entry for the captain and one crew member to the Friday night dinner and bar, Saturday breakfast, Saturday lunch in Charlevoix, and for the Saturday evening banquet, bar and auction. Additional crew may be added for $200 each.
Trailer parking in designated areas.
The registration fee must be paid at the time of registration and is not transferable. There is no waiting list waiting list and therefore there is a 'last date to cancel' in order to receive any level of refund.
The number of General Registration openings is based upon the number of sponsors and a capacity of 120 boats. Register by selecting the live link on the picture above. Registration requires the following information:
Registrant's name, address, phone number, email address, and t-shirt size for the captain and first crew member.
Credit card information.
Boat name, brand, length, hull type and beam.
Proof of insurance for boats is required in PDF format and must be emailed to boynethunderreg@gmail.com by June 17, 2024.
As a reminder, general registrants are not guaranteed a dock space. We work hard to get all registered boats in the water close to the main marina but that is not always possible. 
The course is posted on the Participant Schedule page. On-site, you will be provided with additional information about boat groupings, the parade lap, and other pertinent information needed to ensure that you have an enjoyable weekend and a safe event.
Cancellation Policy
Cancellations can be made until June 17th, 2024, and will incur a $300 processing fee. Refunds will not be issued after June 17th, 2024. There will be no partial rebates for unused dockage or non-participation in any Boyne Thunder events.
Additional Crew
Additional crew are welcome to join in for $200 per person; registered by the captain. Additional crew count and payment are due no later than June 14th, 2024. This fee covers running the poker run with the assigned captain, entry into the Friday night dinner and bar, Saturday breakfast, lunch in Charlevoix, and for the Saturday evening awards banquet, bar and auction.
General Registrants will use Eventbrite to add riders until the final day. Sponsors should email boynethunder@gmail.com to add riders.
All crew members are required to complete the proper forms and waivers prior to boarding your boat on the poker run date. Wristbands received at registration must be worn for the duration of the weekend.
Cash Prizes
Cash prizes are awarded for the top three poker hands – and the worst poker hand – and are announced at the Saturday evening event. In order to be considered for any of these prizes, you must turn in a poker hand of five cards prior to 6:30pm on the poker run date and not have passed the pace boat of your color group during the parade laps. If you should miss a card stop, cards will be made available.
It is true: cards are not to be opened prior to turning them in. We also don't sell additional cards (you may pick cards to complete your hand if you missed a stop or if some went for a swim). Yes, we will post all the card hands and you are welcome to take them with you at the conclusion of the event.
Miscellaneous
Our poker run typically sells out within an hour of opening for general registration. We highly recommend that you use a computer to log into Eventbrite and have your credit card information handy. There is no other way to register for the event so please do not call the office or Boyne City City Hall in hopes of registering that way. We are available to assist you should questions arise.
We do not keep a waiting list and we do not allow for the transfer of your registration. Please be mindful of the last date to receive any level of refund.
We are happy to answer questions at 231-582-9009.